Country Roads Transit — A Ride For Everyone
Public Transportation for Randolph & Upshur West Virginia Counties
Do you need an affordable and reliable transportation service to help you get around Randolph and Upshur Counties in West Virginia? Country Roads Transit provides public transportation services to everyone in our region. We offer scheduled pick up and drop offs along our daily routes as well as provide special pick-ups and drop-offs with reservations.
Country Roads Transit is simple and dependable transportation you can count on. You can meet us anywhere along our route for just $1.25 one-way. We also offer affordable monthly pass options. Simply wave your hand along our route and our driver will pick you up. Country Roads Transit runs Monday through Friday, 8 a.m. through 4 p.m.
We have a North Loop and South Loop in Elkins, WV both making 7 loops during the day—a loop approximately every 60 minutes. We make 7 loops throughout Buckhannon, WV —a loop approximately every 60 minutes. Times may vary depending on weather and traffic. If you would like more information, be sure to give us a call at 304-636-6472 or toll free at 1-877-636-6472.
If you need a special pick-up or drop-off, call us a day ahead and we'll come to you. Please note that special rates apply. Click on our Route Deviation or Demand Response Services for details on Randolph County or Upshur County.
All of our transit vehicles are wheelchair lift equipped and accessible to individuals with disabilities.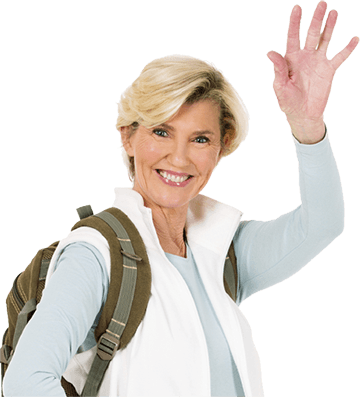 Need
A Ride?
Just Wave
Your Hand.

We will
pick
you up
anywhere
along the
route.